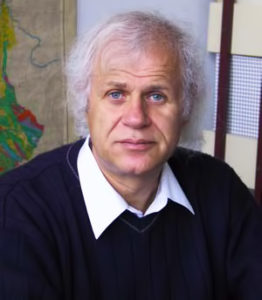 Born March 13, 1949, in Carina (municipality of Pecka, Western Serbia).
Geological technical school finished in 1966 and the Faculty of Mining and Geology, University of Belgrade in 1973.
In June 1974 was elected as assistant for the course Petrogenesis, whose teacher was academician Stevan Karamata, on the Faculty of Mining and Geology, Department of Mineralogy, Crystallography, Petrology and Geochemistry. Beside petrogenesis, he held exercises in Basic petrology and petrography, subjects taught by professors Vera and Predrag Djordjevic. The number of students was about 300 per year, though during a semester the number of exercises ranged from 14 to 18 hours per week.
On June 29, 1978, he defended his Master's thesis entitled "Hydrothermal Changes in the Volcanic Rocks in Well B-2 in the Bor River." He acquired knowledge in the field of petrology, geochemistry and geology of ore deposits of metals and non-metals and visited most of the mines and instructive geological localities in the former Yugoslavia. He established contact with colleagues from Geological survey and Geological institute where he worked on the mapping of Basic geological maps and prospecting of mineral resources.
Dragan Milovanovic is one of the founders of the Research Center Petnica. In the late seventies and early eighties, he organized and gave lectures in geology along with enthusiasts and fans of natural sciences, including geology in high schools at the Valjevo district. They slept on straw in the classroom, and the food was prepared based on local recipes. This is when the cornerstone of this unique scientific institution was laid. In time it took on a very important role in the education of young people in Serbia, as well as former Yugoslavia. Young people from other countries occasionally participated in some programs.
In June 24,1983, he defended his PhD thesis "Petrology of Low-Grade Metamorphic Rocks in the Central Part of the Drina-Ivanjica Paleozoic" at the Faculty of Mining and Geology. His mentor was academician Stevan Karamata. Analyses for PhD were performed in Switzerland (Neuchâtel) and Italy (Padova), where the well-known experts prof. Kibler and prof. Chassis showed him methods for studying a low-grade metamorphism of clastic and pyroclastic rocks. Same methods are still in use in the study of low-grade metamorphic rocks Ripheum-Cambrian and Carboniferous.
At that time Milovanovic started cooperation with geologists worldwide, from Switzerland, Italy, Germany, Austria, Hungary, Bulgaria, Romania, Greece. He's still working with some of them.
In May 1984, Dragan Milovanovic was elected for the assistant professor at the Faculty of Mining and Geology for the subject Petrology of metamorphic rocks. Leading this subject he additionally has hold exercises of Petrogenesis, Basic petrology and Petrography and held lectures of petrogenesis changing prof. Karamata when he was absent. Continuous work with professor Karamata enabled him to participate on a number of grounds, conferences, congresses. Among the first at the Faculty of Mining and Geology he brings the personal computer and wrote software for petrology and mineralogy. Dragan Milovanović modernizes lectures and exercises involving power-point presentations, slide shows and movies from the scientific field of geology that were purchased or made by his own. Dragan Milovanovic had begun to deal with "geological photography and film" that he raised to professional level today.
In 1991, together with professors Vera and Predrag Djordjevic published book "The basic petrology" and soon inherited the same course. At that time this course was hold for all students of geology at the Faculty of Mining and Geology, about 300 students per year. So it was more than enough examinations, tests, consultations per year.
Owing a vast work energy and enthusiasm Dragan Milovanovic succeeded, in spite of teaching at the university and constant work with professor Karamata, to study ophiolite, igneous and metamorphic rocks and gained amazing experience on localities throughout the overall former Yugoslavia. He visited most of the world famous geological sites: Caucasus, Novosibirsk, Urals, China, Troodos, Algeria, England, France, Switzerland, Italy, Austria, Hungary, Romania, Bulgaria, Greece and so on.
In 1990.Dragan Milovanovic was chosen for a member of an international expedition for studying the East Pacific rift. During 45 days on a boat he researched with colleagues- experts from different geological fields from 25 countries, middle ocean ridge basalts, ocean floor metamorphism and exotic "black chimneys". Residing in South America, at Andes, Easter Island contributed a lot to his opinion and to Serbian geology.
In the former Yugoslavia Dragan Milovanovic collaborated and published papers with the famous geologists. Let us mention some of them from Serbia: Dr. Branislav Ciric, Professor Slobodan Jankovic, Professor Milorad Dimitrijevic, Dr. Branko Krstic, and Dr. Mihailo Kalenic. The gained experience turned Dragan Milovanovic into new insights and ideas about the petrology and geological structure, primarily in our area.
Under suggestion of a colleague of engineering geology, urban planning and environmental lectures he started to teach "Applied petrography of Civil Engineering" in Banja Luka and the "Basic geology with petrography" on Faculty of Geography and Spatial Planning in Belgrade.
Dragan Milovanovic was a participant and organizer of a large number of congresses, conferences, study tours, which were sponsored by the Serbian Academy of Arts and Sciences, Faculty of Mining and Geology, IGCP Organizations etc.
Thanks to his hard work and the acquired knowledge, Dragan Milovanovic was invited to hold a lecture or maintenance courses in igneous petrology and metamorphic rocks, ophiolites, geological heritage, applied petrography in Switzerland, Germany, Soviet Union, China, Austria and Italy. Particularly successful was cooperation in Germany (Hamburg, Hanover) and Austria (Vienna, Salzburg, Innsbruck) and Italy (Rome, Padova) where he was frequently working on the problems of the ophiolites, metamorphic rocks, stone protection, and geological heritage. At the University of Hamburg, he learned to work independently on microprobe. The first chemical analysis of minerals obtained by this complex instrument for the purposes of geological studies in Serbia led by Geozavod, Geoinstitute, Faculty of Mining and Geology, or as a part of research projects, doctoral and master's theses was done by Dragan Milovanovic.
Successful operation and collaboration with colleagues and institutions from abroad resulted in his far recognition and becoming a member of the International Commission for the metamorphism, Commission for ophiolites, member of editorial boards of international and national journals, consultant for teaching and practicing petrology of igneous and metamorphic rocks, development of doctoral and master's theses, graduate theses, etc.
In June 1995 he was elected as full professor at the Faculty of Mining and Geology for the subject "Petrology of metamorphic rocks". His work with professor Karamata has not stopped. They have published a joint work, stayed on a field, lectured, and traveled, organized meetings, excursions. In 2001, together with Blažo Boev, published a book "The Earth, plate tectonics and magmatism". This book appeared at the time when the theory of plate tectonics "expanded". Therefore, the book was and remained the basis for a new geological overview of the origin and conditions for accommodation of different types of rocks. According to its topics, quality illustrations and accompanying text, this book is still a useful textbook for students of Mining and Geology as well as for students and colleagues at the university in Croatia, Bosnia and Herzegovina, and Montenegro. The book was published in FYROM (Macedonia), where it was in 2002 declared for the best published book in the field of natural sciences.
The reorganization of the faculty and the departure of some professors for retire, involved in his interesting sphere beside the above mentioned items, the "Technical petrography" (now – Applied petrography). Younger colleagues, his PhD and Master graduated and took part in the subjects he had held: Basics petrology, Theoretical petrology and Applied petrography.
In 2004, Professor Dragan Milovanovic published children's book "Digby's travels through the Earth". The way of writing, original illustrations and themes that process our planet Earth, considered it to be a unique book in geology, not only in Serbia but much broader. Presented in a number of elementary schools and in the opinion of teachers "in the right way," enabled young generations to explain the structure and the composition of the planet. This book is an attempt to return geology into the primary education, where it was a few tens of years ago.
The first edition "blows". In 2011 the second edition came out along with those in English.
Dragan Milovanovic was always friend with the camera. Decades of experience and training in photography and recording left behind Dragan Milovanovic excellent "geological" images from around the world. Especially beloved are photos from the Sahara, Andes and the Russian part of the Himalayas, the Stara Planina, Miroc, Iron Gate etc. There are over 250 000 photos and all are sorted according to the type of rock and localities. Some of them are the most beautiful pictures in the field of geology in our country. Consequently he deserved to become a member of the National Geographic of Serbia.
The basic idea of Dragan Milovanovic is to his pictures being used by everyone who need them and to place geology back at right place due to its importance in education of young generations and for the economy of our country. On the official website of the Ministry of Environment, Mining and Spatial Planning, the largest number of images from the areas of geology are recorded by Dragan Milovanovic. The wealth that needs to be preserved.
Knowledge of geology of Serbia and cooperation with colleagues from other disciplines with good photos and videos from a large number of sites enabled his working in the geological heritage of Serbia. For the past ten years Dragan Milovanovic is very active in these topics and has published several papers and monographs. Taking into consideration the gained recognition and commitment that he implemented successfully he became a member of the Commission of UNESCO, the Ministry of External Affairs of Serbia.
Dragan Milovanovic has its own web site, www.draganmilovanovic-kene.rs, unique among geologists in Serbia. Through it is possible to communicate with the author of the site and the geology, archeology and natural beauties of Serbia.
Great experience and collaboration with colleagues from abroad resulted in the invitation to give lectures or hold courses in igneous petrology and metamorphic rocks, ophiolite, stone protection and geological heritage at the famous European universities and institutes. For the known geological journals was conducted and perform reviews for many manuscripts in the field of petrology of igneous and metamorphic rocks. Dragan Milovanovic organized geological excursions throughout Serbia for students, PhD students from Austria, Germany, Switzerland, Slovakia, and Italy and so on. Very fruitful and extensive cooperation led to great recognition of Dragan Milovanovic and Serbian geology, today.
At present Dragan Milovanovic, on the department where he works, give lectures of "Petrology of metamorphic rocks", and a part of subject "Geological environment of Serbia". His brilliant lectures with presentations and instructive explanations of geological processes are today a key model for younger colleagues, lecturers, both in Serbia and abroad.
Since 2011 he received invitation to give lectures and exercises in "Geology" at the Faculty of Biology and the subject "Archaeopetrology" at the Faculty of Archaeology. Dragan Milovanovic was declared by students on the Faculty of Biology as the best teachers in the course of 2011. For both faculties, in electronic forms, wrote textbooks.
Lectures on Biology and Faculty of Archaeology, are an important step forward and "infiltration" of geology in other natural sciences. We believe that it will contribute in change and return the place and the role of geology in the development of the above mentioned disciplines at least in Serbia. Let us also to mention on important place of geology in primary and secondary schools, for environment, construction, protection of the natural wealth and so on.
Since 2013, he held subjects "Geology and Environment", "Geochemistry and environmental protection" and "Geochemistry in ore deposits" at the Faculty of Mining and geology. In the same year published a book "Rock minerals", again with colleagues from FYROM. This book is recommended for students of geology at all departments at the Faculty of Mining and geology, as well as to students of geography, civil engineering, archaeology and biology.
Dragan Milovanovic has in his owns library over 200 books from the field of geology that are continually updated to follow new information that will be implemented in his lectures. Currently writes a new book "Basic of petrology".
Within the last ten years Dragan Milovanovic organized and participated in a series of lectures on geology at the Kolarac University. These were stories about the Earth, a series of volcanoes, geological heritage of Serbia, mineral resources, sustainable development. The lectures were well received and one of the most interesting in the Kolarac University by the audience opinion (the data from the Internet). He has participated in many shows on radio and television, where is always a welcome guest, in the field of geology.
Dragan Milovanovic has a great reputation among all generations of geologists in Serbia and abroad as being always in move, ready for work, learning and cooperation. Among colleagues is known as the high-energy enthusiast, enthusiastic and hard-working employee. Dragan Milovanovic dedicates life to geology and as like to says, to the best and most beautiful job in the world.
Honors and awards
Winner of "M. Milicevic, Engineering geology" for 1981.
Charter for the development of geology on the occasion of 100 years of Serbian Geological Society
The winner of the award for the best science book published in the field of science in Macedonia for 2001
Thanksgiving to the National Museum for the development of GTL DIANA, 2007 years.
The award for the best technological innovation 2009, Category resources, third place in the open category "Diatomaceous earth as a natural insecticide." Tim BIOCONTROL (Željko Tomanović, Slobodan Krnjajić, Anđeljko Petrovic, Dragan Milovanovic, Ljubisa Stanisavljević).
Acknowledgement on the occasion of 40 years of academic Caving Club ASAK in 2011.
PARTICIPATION IN PROFESSIONAL AND SCIENTIFIC BODIES
Head of the Department of Petrology MKPG Institute of Mining and Geology, from 1998 to 2004.
Member of the Council of Mining and Geology from 2002 to 2004, President of the Council of Mining and Geology from 2012.
Member of the commission for the reform of the Mining and Geology 2005 years.
Vice President of Serbian Geological Society
Member of the German mineralogical society of Germany
Member international expedition to the genesis of geothermal East Pacific Rise (GEOMETEP), Bonn, Germany that examined East Pacific ridge between Natca and Pacific plates. Resided on a research ship that has sailed from Peru to Easter Island, the Galapagos Islands and then back to Chile.
Chairman of a metamorphic map and database fields Carpatho-Balkan Mountains and the Dinarides, Bratislava 2002.
Expert Federal Ministry of Geology and Mineral Resources.
Secretary of the Commission for the Yugoslavs metamorphism KBGA.
A member of a geological map of the Republic of Serbia from 2001 until 2008.
Member of the editorial board of the journal "Geol. an. Balk. axis. " and " Works
Geoinstituta "and the Natural History Museum.
Member of the Scientific Board of the Journal Geologica Carpathica, since October 2005 to 2009.
Member of the Commission of UNESCO and the Ministry of Foreign Affairs for the protection of natural wealth.
Expert consultant of National Geographic magazine, Serbian issue, since 2006.
Member of the University Commission for construction, architectural and geographical science by 2013.
Member of the organizing committees of numerous conferences
Participation in over 30 national and international scientific conferences and congresses.
BOOKS
Djordjevic, V., Djordjevic P, Milovanovic, D. 1991: Basic Petrology (p. 223)
Milovanovic, D. & Boev, B., in 2001.Earth, plate tectonics and magmatism (p. 174)
Boev, B. Milovanovic, D. in 2001. Plate tectonics and magmatism (p.174, on Macedonian language)
D. Milovanovic, Digby's travels through the Earth 2004, p. 48, second edition, 2011. Books written for children
Milovanovic D. 2011th Digby's travels through the Earth, (p. 47). The English version of the book Crvon travel the country
Milovanovic D. 2006. Petrology of metamorphic rocks. An electronic edition of a book which covers the entire progam course, with accompanying PowerPoint presentations. Constantly aded, corrected, supplemented with new knowledge in the field of petrology of metamorphic rocks
D. Milovanovic, 2011. Basic petrology. An electronic edition of the current book Basic Petrology, revised, modified and customized petrology course that is held at the Department of Mining and Geology. Continually complements, corrected with the new data in the field of petrology
D. Milovanovic, Leptokova S., B. Boev, 2013. p. 309. Minerals of rocks.
Scientific work
Petrology and Geochemistry of metamorphic and igneous rocks;
Geological environment genesis of rock;
Ophiolites
Arhaeopetrology (Faculty of Archaeology) and General Geology (the Faculty of Biology)
Aplied Petrography
Geological Heritage and education in the field of geology.
Geology and Environment
He was a mentor or committee member for over 20 doctors and master's theses and over 50 diploma works.
INVITED LECTURES
China
Beijing. Lecture on the geology of the Balkan Peninsula, with special emphasis on Development of Mesozoic ophiolite.
Russia
Moscow, Novosibirsk. Lectures on the development of igneous and metamorphic processes in Balkan Peninsula.
England
London, the Geological Society of Great Britain. Lecture on the geology of Yugoslavia with reference to the Alpine Orogeny.
Algeria
Algeria. Lecture on the low level of metamorphism Drinsko Ivanjica Paleozoic.
Italy
Rome, Padova, where I lectured in the field metamorfiznma, ofiolite, application and protection of stone in archeology
Germany
Hamburg, Hanover. Lectures on low-grade metamorphism and ophiolite
Austria
Vienna, Salzburg, Innsbruck. Lectures on ophiolite and metamorphic rocks in the Balkan Peninsula. Lecture Innsbruck was voted the best as a visiting professor (2008)
Slovakia
Bratislava. Lectures on ophiolite occurring in the territory of the former Yugoslavia and applied petrography and etc.
Participation in the project
1982-1983 Istraživanje kristalastih magnezita u metamorfitima Srbije.
Fond za geološka istraživanja (Niš) i Magnohrom (Kraljevo).
1982-1986 Metalogenija ofiolita. IGCP 197
1982-1986 Ofioliti i litosfera marginalnih mora. IGCP 195
1985-1991 Korelacija krednotercijarnog magmatizma Velikog Kavkaza i Jugoslavije.
1988-1994 Paleozoik u Tetisu. IGCP 276
1990-1995 Osnovna geohemijska, mineraloška, petrološka i sedimentološka proučavanja litosfere Srbije. MNT. Republika Srbija
1993-1997 Tektonika ploča i metalogenija Karpato-Balkanida. IGCP 356
1994 Detaljna geološka istraživanja gnajseva kao aritektonskog i građevinskog kamena u nalazištu "Koritance" u selu Bojnik. Fond za geološka istraživanja Srbije, Beograd.
1994–1997 Carpatho-Balkan plate tectonics and Metallogeny. IGCP 356,
1994-2000 Geodinamika. Metamorfne stene Srbije. Srpska akademija nauka i umetnosti
1995–2000 Geološka proučavanja litosfere Srbije (07M02). Ministarstvo za Nauku i Tehnologiju Republike Srbije.
1995-2001 Geodinamika. Ofiolitske zone i geneza razvoja okeanskih prostora.
Srpska akademija nauka i umetnosti
1995-2001 Geodinamika. Metamorfizam vezan za smeštaj ofiolitskih kompleksa.
Srpska akademija nauka i umetnosti
1998 Petrološka studija magmatskih i metamorfnih stena Vršačkog brega u cilju
definisanja kriterijuma za utvrđivanje potencijalnosti tercijarne podloge panonskog basena kao kolektora nafte i gasa. Pokrajinski sekretarijat za
energetiku i mineralne sirovine, Novi Sad
1999-2001 Uticaj procesa u mantlu na smanjenje prirodnog hazarda u Tetisu. IGCP 430
2001-2004 Glaukonitske formacije Karpato-Balkanida Projekat međuuniverzitetske saradnje Rudarsko-Geološkog fakulteta Univerziteta u Beogradu i Eotvos Lorand Universiteta (Mađarska)
2001-2005 Mezozoјski ofioliti Srbiјe – geološki značaј i potenciјalnost Proјekat
Ministarstva nauke i zaštite životne sredine br. 111767, rukovodilac proјekta
2005–2009 Magmatski, metamorfni i sedimentni procesi u alpskom orogenu centralnog dela balkanskog poluostrva br. 146013 (Ministarstvo za nauku i zaštitu životne sredine)
2005-2009 Primena geofizičkih metoda GIS, GPR, i GPS i novih tehnologija u
istraživanju timskog grada i egijskog vojnog logora Viminacijuma
2008 -2010 Studija stanja i perspektive razvoja opekarske industrije AP Vojvodine-polazna
osnova za izradu Strategije održivog razvoja. Pokrajinski sekretarijat za
energetiku i mineralne sirovine, Novi Sad
2009-2010 Studija geoturističkih potencijala Fruške Gore. Pokrajinski sekretarijat za
energetiku i mineralne sirovine, Novi Sad
2009-2010 Geološki objekti i Prirodni fenomeni kao integralni elementi geodiverziteta
Beograda
2010 Geonasleđe parka prirode Šargan Mokra Gora
2010-2011 Ofioliti severoistočne Srbije i Ofioliti Deli Jovana i Zaglavka
2010-2015 Petrogeneza i mineralni resursi Karpato Balkanida i njihov značaj u zaštiti
životne sredine, rukovodilac projekta
Member projects in the Serbian Academy of Sciences and Arts
Naziv teme
Tektonsko-metamorfna korelaciјa metamorfnih terena Bugarske i Srbije
Our Institution:
SANU, Odeljenje za matematiku, fiziku i geo-nauke, Odbor za geodinamiku, rukovodilac: akademik Stevan Karamata
Abroad Institution:
Geološki institut BAN, rukovodilac: dop. član Ivan Zagorčev,
Naziv teme:
Karta pre-neogene podloge panonskog basena јužne Mađarske i severne Srbiјe
Our Institution:
Srpska akademiјa nauka i umetnosti, Odbor za geodinamiku, rukovodioci proјekta: akademik Stevan Karamata i prof.dr Dragan Milovanović
Abroad Institution:
Mađarska akademiјa nauka, Ogranak u Segedinu Rukovodilac proјekta: prof. dr Tibor Sederkenji